Snowperk® Revitalising Moisturiser Cream + No. 7 Skin Protection Booster
Snowperk®
Revitalising Moisturiser Cream + No. 7 Skin Protection Booster
Revitalising Moisturiser Cream
30g | $35
Personal skin care prescription based on your skin iD
24 hour skin strengthening hydration
98% Naturally derived ingredients*
The lamellar emulsion mimics the lipid structure of the skin for a perfect affinity. It acts as a "second skin" and therefore helps to restore the barrier of the damaged skin. The cream contains purified sugar Beet Root Extract, a moisturizing natural osmolyte that acts like a protection, a small amino acid derivative that strengthens the skin barrier. This soft textured, smooth and fast absorbing formulation allows a fresher combination of concentrated actives targeted to your skin concern for the best personalised experience.
Fragance Free, No Colorants


No. 7 Skin Protection Booster
10ml | $25
Personal skin care prescription based on your skin iD
Concentrated skincare matched to your skin's needs
100% natural derived ingredients*
Contains 30% French Polynesia Ferment Filtrate
A lightweight formula, gentle on skin
Helps skin defend against harsh elements, pollution, smoke, environmental pollutants and urban damage
Features Exo-P™ , a purified French Polynesia Ferment Filtrate, clinically proven to make skin more resistant to aggressions and improve dull skin for a healthy skin complexion; fast action in 7 days**
Fragance Free, No Colorants



Visibly improves your skin in 2 weeks:
With 90% overall satisfied consumers! (when using snowperk No.7 Skin Protection Booster and Balancing Moisturizer Gel-Cream)

Upon 1st application:
The product spreads easily: 95% *
The product is light and not greasy: 83%*
The product is fast absorbing: 83%*

After 14 Days:
Skin feels healthier: 86%*
Skin feels more hydrated: 75%*
Skin feels more revitalized and less dull: 72%*

Consumer study conducted on 25 Asian women. Results expressed in terms of satisfaction rate.
*Based on ISO16128 standard
**Exo-P™ is used under license from Lucas Meyer Cosmetics Canada Inc
HOW TO USE
In the Day and Evening, mix 1 drop of Skin Protection Booster to 1 pump of Revitalizing Moisturiser Cream, mix well and apply to skin. Shake well before use.
Do not apply the booster alone due to highly concentrated active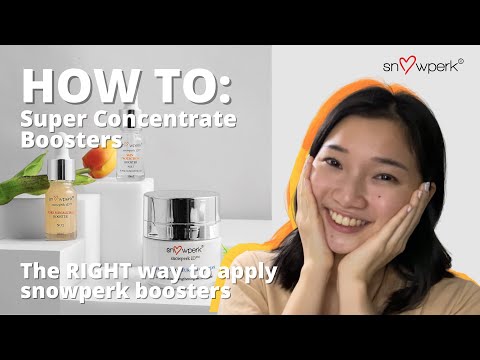 Member reviews | 45
Filter reviews