Snowperk® Balancing Moisturiser Gel-Cream + No. 4 Skin Firming Booster
Snowperk®
Balancing Moisturiser Gel-Cream + No. 4 Skin Firming Booster
Balancing Moisturiser Gel-Cream
30ml | $35
Personal skin care prescription based on your skin iD
24 hour skin strengthening hydration
97.9% Naturally derived ingredients* Contains Sugar Beet Root Extract, a small molecular weight substance, the moisturizing natural osmolyte with a protective and silky skin feel benefit, balance the water inside and outside the cells.
This lightweight, fast-absorbing, and non-greasy formulation allows a fresher combination of concentrated actives targeted to your skin concern for the best personalised experience.
Fragance Free, No Colorants
No. 4 Skin Firming Booster
10ml | $24
Personal skin care prescription based on your skin iD
Concentrated skincare matched to your skin's needs
Refreshingly improve your skin elasticity
Features Elix-IR™, a highly active Knotgrass Extract, clinically proven to improves skin firmness by 11.9% after 28 days limiting sun damages and reduces the appearance of wrinkles**
Knotgrass extract, rich in flavonoids, first active acting on Infra'Aging™ (IR-induced skin aging). Reduces the signs of premature aging induced by Infrared Rays.
Fragance Free, No Colorants
Visibly improves your skin in 2 weeks:
With 92% overall satisfied consumers! (when using both snowperk No.4 Skin Firming Booster and Revitalising Moisturizer Cream)

Upon 1st application:
Skin feels moisturized after application: 90%*
The product is fast absorbing: 80%*

Consumer study conducted on 25 Asian women. Results expressed in terms of satisfaction rate.
*Based on ISO16128 standard
**Elix-IR™ is used under license from Lucas Meyer Cosmetics Canada Inc.
HOW TO USE
In the Day and Evening, apply 3 drops of Skin Firming Booster to Face, pat well until absorbed, then follow up with 1 pump of Balancing Moisturiser Gel-Cream.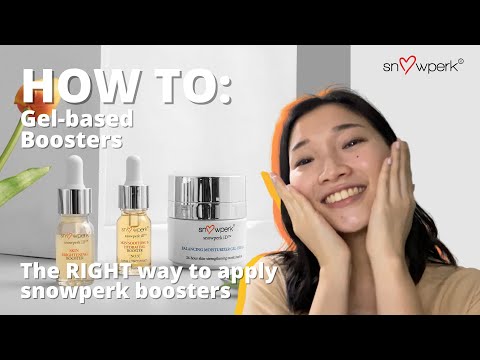 4.1

Visibly younger looking skin
Member reviews | 41
Filter reviews