Your product
Essence of Chicken with Tangkwei
BRAND'S®
Essence of Chicken with Tangkwei
Brand : BRAND'S®
Price :

S$ 22.50

Serving Per Package :

6
Description

Missions

Pictures

Results
For women to stay at their best.
BRAND'S® Essence of Chicken with Tangkwei is ideal for women with menstrual discomfort. It is formulated with the excellent "blood herb" Tangkwei that has been used by generations of Asian women to help them stay on top of things even during the 'time of the month'.
Specially formulated based on TCM theory and concepts which have been extensively applied over thousands of years.
Best Way to Consume :
Take 1 bottle daily on an empty stomach in the morning for 10 days. Begin consumption 2 weeks after the day of your last menstrual cycle for best results.
Can be taken at room temperature, warm or chilled. Once opened, the contents should be refrigerated and consumed within 24 hours.
For more information visit www.brandsworld.com.sg
For updates check out their Facebook page
To Buy Now : www.store.brandsworld.com.sg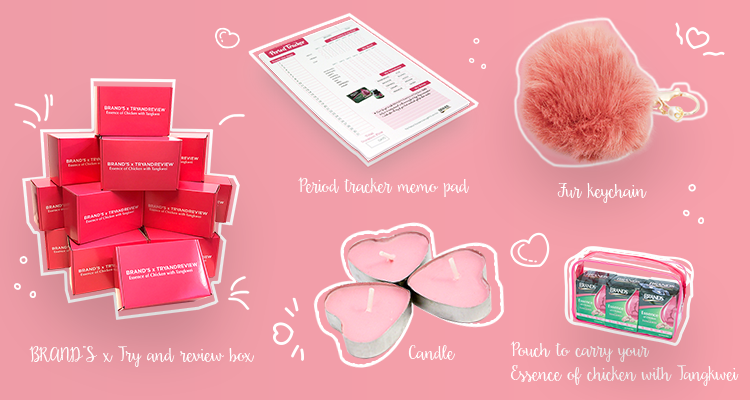 Discover the brand
Fill-up the questionnaire with honesty :)
Be patient, wait for the testers selection email
If you are selected, try the product at home. Take 1 bottle daily on an empty stomach in the morning for 10 days. (Begin consumption 2 weeks after the day of your last menstrual cycle for best results)
Rate and review it on www.tryandreview.com
Take a picture of you with the product and the surprising box and upload it on www.tryandreview.com. You may also share it on social media FB @Tryandreview IG @tryandreviewasia
By signing-up to Try & Review, you agreed to our Terms of use (http://www.tryandreview.com/conditions-and-regulation) and accepted that Try and Review holds the whole property of the reviews, comments and pictures left on the website
Will recommend to a friend
Ease of Format :

(4.9/5)

Efficacy :

(4.7/5)

Overall :

(4.8/5)

Price :

(4.7/5)